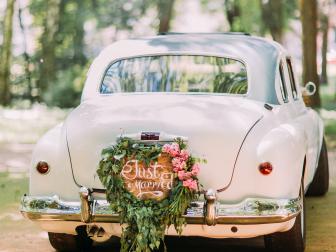 Guide to Affordable Wedding Gifts
Weddings are always considered one of the most special moments of anyone's life. It is an event that requires spending money and lots of it and putting in a lot of effort in preparation. Therefore, it wouldn't be a surprise if the soon-to-be wed couples are overwhelmed with the planning stage since they want nothing short of a perfect ceremony and event to showcase to their guests.
And since you are expected to be one of the guests on your close friend's wedding, don't think for a second that you're free of any responsibility. As a matter of fact, it has become a well-accepted practice to always bring a wedding gift for the couple. But the problem is you don't really have enough cash to buy one, or so you think?
By being resourceful, you actually don't need to shell out a lot of cash just to come up with a great wedding gift. Here are some ideas we compiled for you:
1 – Embroidery
If you don't know it yet, newly-wed couples will definitely love all sorts of embroidered items they received as gifts. Embroidered items include that of towels, bed linens, handkerchiefs, and others. Aside from the fact that they are so affordable, you can also make them personalized, say request for the couple's names or characters to be embroidered.
2 – Personalized Bobbleheads
But if you think someone else will be giving an embroidered item as a gift, then you might want to consider wedding bobbleheads instead. Just like the first option, this can also be customized to look like the couple. As soon as they open the gift, they'll be surprised that you actually got that kind of humor in you.
3 – Romantic Dinner
Wedding gifts aren't exclusive to physical things. One creative way of ensuring that the couple will appreciate what you give them is surprise them with a dinner at a popular restaurant, but not necessarily an expensive one. If you really are a close friend of the two, you won't have a problem figuring out what their favorite foods in the menu are.
4 – Evening Date
This one's literally similar to the previous option, but this time, you can choose a more private setting for them. You don't have to spend a lot of money to set up something with romantic music and some good wine for them to remember the experience forever.
5 – Practical Gifts
Lastly, it still makes a lot of sense to opt for a functional wedding gift. You could be thinking about the conventional stuff like kitchenware, small appliances, or cooking equipment, but mind you, they probably already have them. We recommend unexpected but very fun stuff such as membership to a fitness center or park, Netflix subscription, or maybe a loyalty card from a local restaurant.